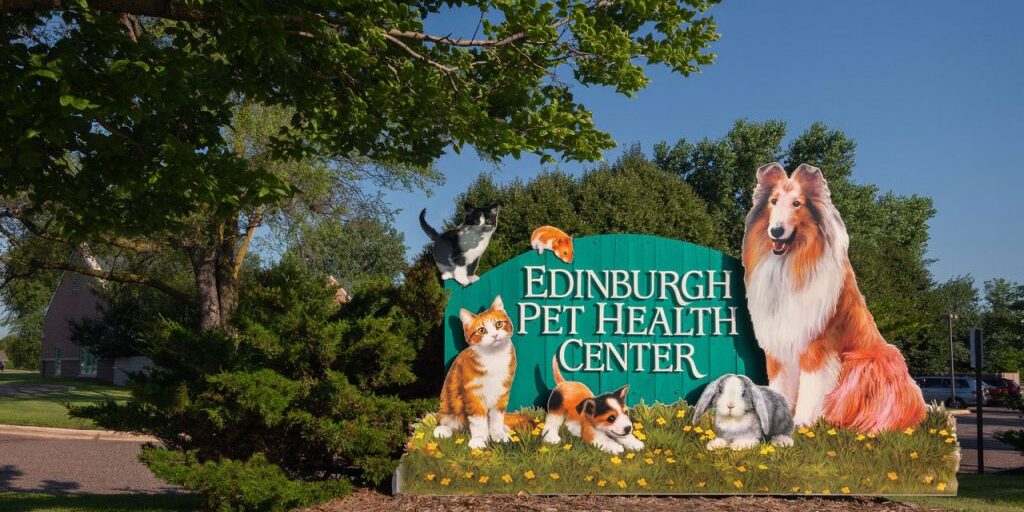 Edinburgh Pet Health Center was founded in 1991 as Edinburgh Pet Hospital by Lisa Carpenter, DVM. Wanting to provide compassionate and high-quality veterinary care to her patients, she brought together an exceptional professional staff and encouraged the highest level of customer service and patient care. After 13 years in an increasingly small leasehold space, we moved across the street into our present facility on the corner of 85th and Noble in Brooklyn Park, Minnesota in 2004. Our new building was designed by a veterinary architect who created a beautiful building that allowed us to practice in an efficient and enjoyable manner and is comfortable and welcoming for pets and people alike.
Our commitment to excellence in veterinary medicine and education is very important to our practice. We are an American Animal Hospital Association (AAHA) accredited practice. Only 17% of all veterinary practices in the United States are AAHA accredited. We met or exceeded the requirements in 18 categories covering over 900 Standards of Care for Anesthesia, Client Service, Contagious Disease, Continuing Education, Dentistry, Diagnostic Imaging, Emergency/Urgent Care, Examination Facilities, Housekeeping and Maintenance, Human Resources, Laboratory, Leadership, Medical Records, Pain management, Patient Care, Pharmacy, Safety, and Surgery. AAHA accreditation is a voluntary program. We were re-certified in June 2017.
In 2017, we earned the Angie's List Super Service Award for the second time, given out to only 5% of the veterinary providers that are reviewed on their consumer marketplace website. We try to always provide exceptional service along with excellence in veterinary care.
In February 2020, after nearly 30 years in business, Dr. Carpenter sold the clinic to her associate vet, Dr. (Foster) Nelson.
Dr. (Foster) Nelson attends many hours of continuing education each year. We belong to the Veterinary Information Network (VIN) which is a group of thousands of veterinarians around the world, including many specialists, that connect via the internet. Timely updates on medical issues, consultation on cases, and a wealth of veterinary information can be accessed within minutes.
Client education is one of our highest priorities as it is essential for us to help owners keep their pets healthy. You can expect comprehensive exams, explanations of your pet's health care needs, and in-depth discussion of problems at your appointments. We provide ample written material for pet owners on a wide variety of health conditions as well as important wellness information. We are readily available by phone to discuss ongoing cases. We routinely research the latest treatments for involved medical cases through internet research and consultation with specialists.
Want to learn more? Meet our Doctors or Meet our Staff
Schedule your pet's appointment today
Take the first step in a healthier life for your pet by contacting us. We specialize in care for cats and dogs, and would love to be a trusted partner in caring for your furry family members.