Lead Certified Veterinary Technician
Betsy is our lead Certified Veterinary Technician. She has been with EPHC since May 2018. She graduated from Ridgewater College in 2007 with an Associate's Degree in Applied Science for Veterinary Technology. In 2023 she became a certified Fear Free Professional. She has two sweet cats: Tink- a white and gray tabby, and Tilly- a black DLH.  She enjoys reading, baking, cooking, gardening, and snuggling with her pets and daughter.
Certified Veterinary Technician
Kathy Carpenter is a Certified Veterinary Technician who has been with Edinburgh since 1991. Kathy works behind the scenes managing the hospital inventory and also works part-time performing technician duties. Kathy has a terrier mix, Rowan, and a boxer mix, Zelda. In her spare time, she enjoys going for family walks, reading, and volunteering at her daughter's school.
Certified Veterinary Technician
Jaimie is a veterinary technician who started with us in June of 2020. She attended Argosy University and earned her Veterinary Technician degree. Since graduation, she has been working in veterinary medicine and hopes to return to school to specialize in anesthesiology. In her free time, Jaimie enjoys disc-golfing, collecting plants, traveling, and spending time with her two Bengals - Mowgli and Penelope, and her Bearded Dragon, Cosmo.
Kayla started at EPHC in February 2020 as one of our veterinary assistants and was soon promoted to a full-time veterinary technician in the summer of 2020. Her future goals include becoming a certified veterinary technician and to work with horses professionally. In her free time, Kayla loves to read, swim, hike, ski, and spend time with her pets. Kayla has a Shepherd mix named Gibbs, an orange DSH cat-Milo, a salamander-Sal, and a hedgehog named Quilbur.
Marissa joined the EPHC team as our Customer Service Representative in July of 2020 and began working as a technician in April 2021. In 2023, Marissa completed her Fear Free Certification. Marissa is currently enrolled at Penn Foster in the Veterinary Technician program. Her goals include becoming a Certified Veterinary Technician and becoming a specialist in Animal Behavior. In her free time, Marissa enjoys painting, video games, training her dog, Ghost, and reading. Marissa also has two gray tabby cats, Archer and Ellie.

Treatment/Surgery Technician
Stephana has been a veterinary assistant at EPHC since January 2018. She is attending North Hennepin Community College for her Bachelors of Science in Biology. Stephana's goal is to one day become a rehabilitator of wildlife. Outside of work, she loves playing with her husky, Alpha, spending time with family, and playing volleyball.

Melanie is one of our veterinary assistants and started in December 2020. Melanie is pursuing an associate's degree in biology. She also dreams of opening her own animal sanctuary someday. In her spare time, you can find her taking care of her two dogs, Lulu and Coco, baking, reading, and drawing.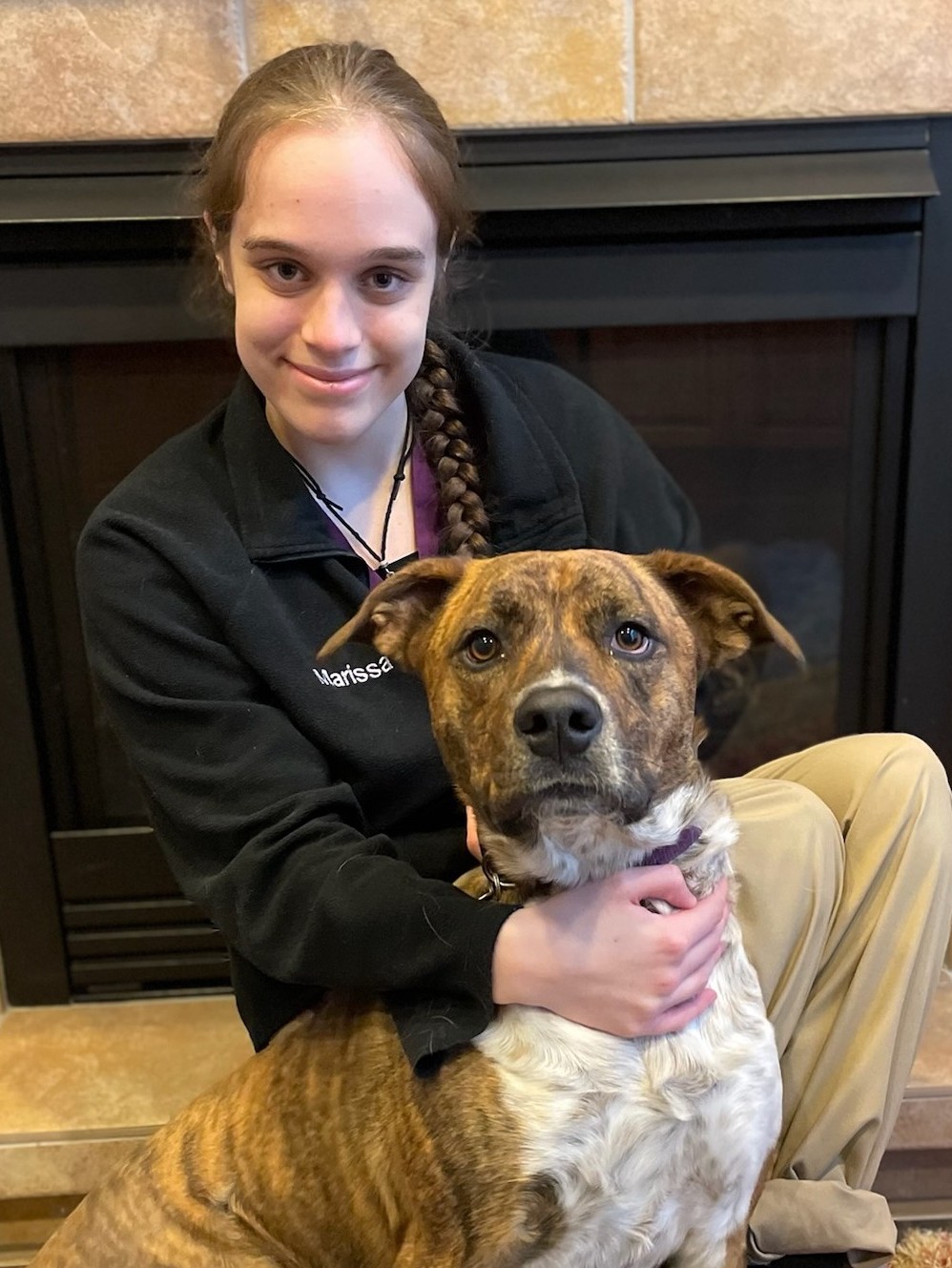 Sam is one of our newest veterinary assistants, she joined our team in 2022. Sam is Kathy Carpenter's daughter and Dr. Lisa Carpenter's niece! She is a junior in high school and loves her part-time job at EPHC. In her spare time, Sam likes to play Minecraft, read books, watch anime, and do agility classes with her dog Zelda. We are very happy to have Sam as a part of our team and happy that she is continuing on the EPHC Carpenter tradition!
Mai is a veterinary assistant/technician who started here at EPHC in 2022. She also works at another animal hospital helping furry friends and protective services on the side. Her ultimate goal at Edinburgh Pet Health Center is to learn more about the veterinary field in general practice and build lasting relationships with colleagues, clients, and their furry companions. Her biggest achievement is to become a great resource to clients and their pets with any questions or concerns.
Skye joined our team in 2023 as a veterinary assistant and has been a tremendous help. In the future Skye hopes to continue her work with animals and find employment with an animal rescue organization. In her free time, Skye coaches volleyball, and enjoys cooking, the outdoors, and snuggling with her cat Bluey.
Abby joined the EPHC team in the summer of 2023 as a veterinary assistant. She is currently pursuing her undergrad degree in animal science and aspires to go to vet school and eventually own her own clinic! In Abby's free time, she enjoys working out, thrifting, and snuggling with her adorable cat Muffin.

Client Service Representatives
Lead Client Service Representative
Nadia is one of our Client service representatives. Whether you're phoning in or coming through the front door, she will be there to greet you with a smile and a friendly hello. Nadia started at EPHC in April 2021. Nadia is a Theatre major and studied at Augsburg University. In her spare time, Nadia loves to play video games, read comic books, and spend time with her Fiance, Sage, cats Biscuit, Gravy, Cayenne, and dog Link.
Client Service Representative
Heather is our newest CSR, she joined our team in 2023. While she is new to the clinic, she has worked in the veterinary field for over 20 years! Heather loves exotic pets, she has 4 tarantulas, an axolotl, a greek tortoise, and a dog. In her free time, she likes to read, spend time with her family, and indulge in anything Disney.
Client Service Representative
Jake joined our team as a CSR in late 2023, but has spent the 3 years learning the world of veterinary medicine. He plans to enroll in school in the near future, and aims to become a veterinarian! Jake's hobbies include cooking, traveling, museums and attending events like art fairs and dog shows. Jake is the proud owner of two dogs, Del Rey (an Afghan Hound) and Max (a Shih Tzu Mix).
Schedule your pet's appointment today
Take the first step in a healthier life for your pet by contacting us. We specialize in care for cats and dogs, and would love to be a trusted partner in caring for your furry family members.