Surgical Care and Anesthesia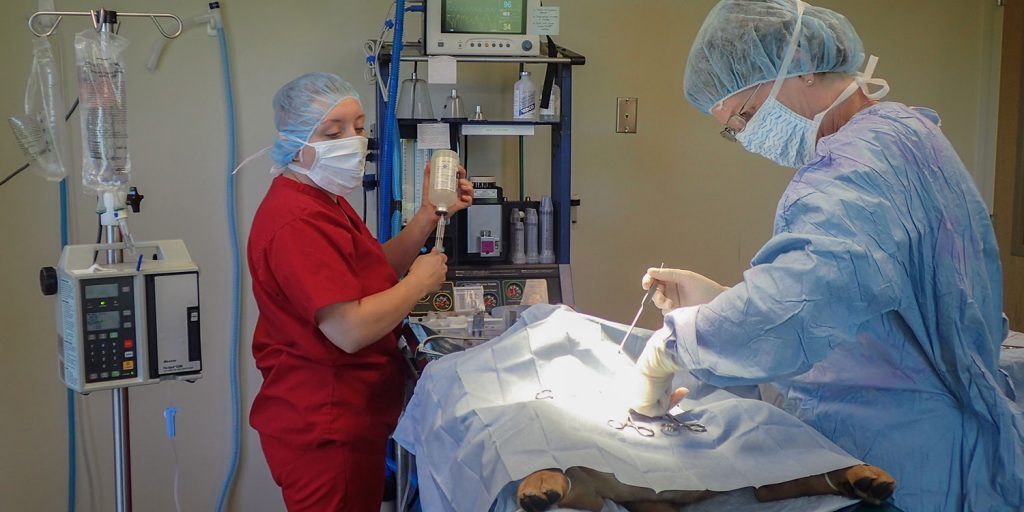 Surgeries performed by our veterinarians include:
Ovariohysterectomies (spays)
Neuters
Lump removals (Lumpectomy)
Laceration repairs
Abscess care
Cystotomy (bladder surgery to remove stones)
Hernia repair
Exploratory surgery
In addition, a board-certified surgeon is available to perform more specialized procedures and orthopedic surgery at our hospital. Those surgeries include fracture repair, knee surgery, triple pelvic osteotomy for hip dysplasia, ear surgery, splenic removal, intestinal surgery, and countless other procedures.
Our surgical suite is only utilized for surgeries and is maintained in a clean and sterile manner. We utilize the best practices for safe anesthesia including appropriate drug selection for each case, proper pain management, gas anesthesia, warming devices, blood pressure, ECG, and pulse oximeter monitoring. A veterinary technician is present at all times to monitor all vital signs and help maintain a safe anesthetic procedure. We require pre-anesthetic diagnostic testing to reduce the level of risk associated with anesthesia.
With accurate information, no pet is "too old" for anesthesia. We are eager to answer your questions and help you make the right decisions regarding your pet's anesthesia needs.
Schedule your pet's appointment today
Take the first step in a healthier life for your pet by contacting us. We specialize in care for cats and dogs, and would love to be a trusted partner in caring for your furry family members.